News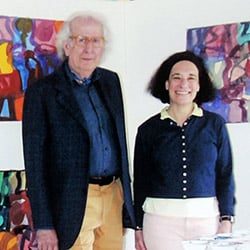 Remembering Raimondo Sirotti
With sadness, we announce the death of Raimondo Sirotti: artist, former mayor of Bogliasco, and champion of the Study Center's founding and mission. For over 20 years, he generously provided his administrative and artistic skills for the benefit of the Foundation. Sirotti served as the director of Genoa's Accademia Ligustica di Belle Arti, and his works are displayed in public spaces across Italy, including the Teatro Carlo Felice. He is pictured here with artist Melissa Meyer during her 2005 residency.
Applications Closed for Spring 2018 Fellowships
The application deadline for Spring 2018 Fellowships has passed. The next deadline is January 15, 2018 for Fall 2018 Fellowships. Stay tuned for announcements of our Fall 2017 and Spring 2018 Fellows!
Please help us spread the word about the Bogliasco Foundation's Fellowship program by following us on Facebook, Instagram and Twitter. Fellows-in-residence and Alumni, don't forget to mention @BogliascoFdn on Twitter and @BogliascoFoundation on Instagram when you're posting about your work or experience at the Study Center!
A Year in the Life: Study Center Fellows 2015-2016
Our new yearbook captures the creative life of the Study Center from 2015-6, featuring beautiful photography by Teresa Crovetto and Davide Acquanita. Designed by the Center's own Valeria Soave, the yearbook reflects the community, inspiration and setting that make the Study Center unique. To order a print copy, please contact us.
Announcing our Spring 2017 Fellows!
We are very pleased to announce the recipients of our Spring 2017 Fellowships - a group of 26 artists and scholars representing 13 countries and 8 disciplines. Click here for the full list of upcoming Fellows and their projects.
American playwright Cori Thomas has been awarded the inaugural Fellowship in our new partnership with Baryshnikov Arts Center (BAC), which offers an expanded residency to take place in Bogliasco and New York City. During her time at the Study Center, Thomas will write the final part in a trilogy about travels in Liberia. These plays, "The End of the Beginning," weave fact and fiction to tell the story of a nation through recurring characters based on the author and her late father, a Liberian diplomat.
The 2016/2017 Aaron Copland Bogliasco Fellowship in Music has been awarded to the American composer Saad Haddad. During his residency, Haddad will develop 'firqa,' an orchestral work combining elements of Middle Eastern and Western musical traditions.
European Heritage Days at the Study Center Garden
In celebration of the Giornate Europee del Patrimonio, the Bogliasco Foundation hosted a guided tour of the magnificent garden of the Villa dei Pini with co-founder and landscape architect Gianni Biaggi de Blasys. The September 24 event featured texts by Iranian visual artist Farhad Ostovani (BF '08, '13) on memories of the gardens of his youth in Tehran. Thanks to actor Eugenio Maliscev and our own Alessandra Natale for their evocative readings.
Visit our photo gallery for scenes from the event.
Celebrating 20 Years of the Study Center
In celebration of our 20th anniversary, the Foundation hosted an aperitivo in September for over 100 guests at the Study Center in Bogliasco. The evening featured a dance performance with musical accompaniment by Fellows-in-residence Barbie Diewald and Yigit Kolat. The 'brindisi' was an occasion to reunite former Fellows and Foundation friends from the Genoa area and beyond.
Visit our photo gallery for scenes from the event.

Click here for coverage of the Foundation and the event in the Liguria Business Journal.
Accolades for Bogliasco Fellows at American Academy of Arts and Letters Ceremonial
Bogliasco Fellows were well represented at the annual American Academy of Arts and Letters Ceremonial in New York on May 18. Lewis Spratlan (BF '13) received the Charles Ives Opera Prize from Academy member John Harbison (BF '96, '98, '02) and Robert Carl (BF '00, '07, '14) received an Arts and Letters Award in Music. Kathryn Davis (BF '04, '09) was awarded the Katherine Anne Porter Award in Literature. Composer David Rakowski (BF '06) was inducted as a member of the Academy. Sharing the stage with these newly-lauded Fellows were current Academy members Martin Bresnick (BF '04, '08), David Del Tredici (BF '97), Stephen Jaffe (BF '10) and J. D. McClatchy (BF '97, '99, '04, '07).
New Partnership with Baryshnikov Arts Center
The Bogliasco Foundation and Baryshnikov Arts Center (BAC) are pleased to announce a new joint residency that will offer Dance, Music, and Theater Fellows the opportunity to bring work developed in Bogliasco to a wider audience and bigger space in New York City.
Joint Fellows in the performing arts disciplines will benefit from a month-long residency at the Study Center in Liguria to nurture and develop new projects, followed by a week-long residency at BAC in New York City to rehearse, workshop, and showcase these works-in-progress.
The Joint Fellowship is a collaboration between two respected international non-profit organizations with the shared mission to support the creation of new work in the arts. Traveling from the intimate spaces and cross-disciplinary community at the Bogliasco Study Center to the lofty studios and well-equipped spaces at BAC will take Fellows on a natural progression in the development of their creative work.
All applicants to the Bogliasco Foundation in the disciplines of Dance, Music, and Theater will be considered for this special Fellowship. We are now accepting applications for the Fall 2017 term.
Remembering Walter Kaiser
We are deeply sad to report the passing of our longtime friend and treasured colleague, Walter Kaiser, whose stewardship as a founding board member brought unparalleled excellence to our program. Walter was known as a great humanist and scholar of the Italian Renaissance. He is pictured here at Harvard University's Villa I Tatti, where he served as director from 1988 to 2002. Photo courtesy of Emma-Louise Ogilvy.