History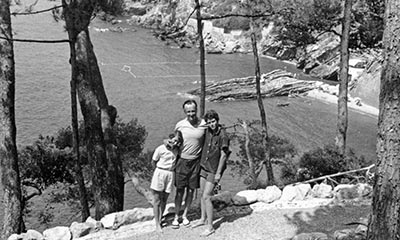 The properties that make up the Bogliasco Foundation's Study Center were once owned by a single individual: Leo Biaggi de Blasys. Dr. Biaggi was an industrialist who ran a company that manufactured sugar from beets. A Swiss citizen, he was born in Italy, studied at the University of Genoa, and lived most of his life in the Liguria region, where he also worked as a delegate to the International Red Cross during WWII. In recognition of his various public activities, the Italian government awarded him in the 1970's with the honorific titles of Commendatore and Grand'Ufficiale.
Dr. Biaggi's French mother Emilie, a talented musician and prominent journalist, had passed down her passion for the arts. Dr. Biaggi had a connoisseur's fondness for the visual arts, music, and literature, and all of his heirs, who spent crucial formative years influenced by the stirring beauty of the Ligurian coast, went on to work in creative disciplines. After Dr. Biaggi passed away in 1979, his descendants---now scattered between Italy, Switzerland, and the United States---began to discuss the idea of honoring his memory and commitment to the arts and humanities with the formation of what is now known as the Bogliasco Foundation.  Their intention was to help cultivate new ideas, creative expression and global community by sharing this very special place, which had proved so inspiring to them in their own artistic trajectories, with the world's worthiest humanists.
In 1991, the Bogliasco Foundation was incorporated as an American 501c3 nonprofit organization in the state of New York. Founding trustees Anna Maria Quaiat and James Harrison, who would lead the organization as President for the next 16 years, spearheaded the efforts to renovate the properties and create ideal working conditions. The Study Center opened its doors to a first small group of Fellows in 1996.
In January, 2007, the Bogliasco Foundation received the "Grifo d'Oro," the highest honor bestowed by the nearby city of Genoa, in recognition of the Foundation's support of the humanistic disciplines. During the presentation ceremony held in the Palazzo Tursi, the Mayor of Genoa read the following citation:
"This prestigious award is given to the Bogliasco Foundation, which, for more than a decade, has undertaken an intense and courageous cultural enterprise that is international in scope."
– Professor Giuseppe Pericu, Mayor of Genoa, January 16, 2007
Today, the Bogliasco Foundation is supported largely through the gifts of individuals who share the Foundation's commitment to sustaining and invigorating the arts and humanities.