Support
The Bogliasco Foundation is funded by gifts from individuals, whose support allows us to keep the doors open for all.  We are grateful for the generosity of friends and Fellows, who sustain the Foundation's mission to offer artists and scholars a stimulating, international community in which to create new work, exchange ideas, and inspire collaboration.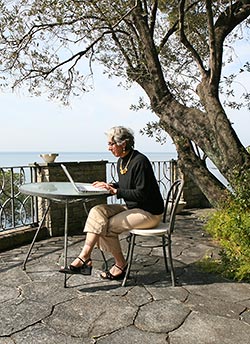 Click here to make a gift online by credit card.
Click here to download a printable gift form that can be returned by mail.
The Bogliasco Foundation is a not-for-profit organization, which is qualified in the United States under Section 501(c)(3) of the Internal Revenue Code. Contributions to the Foundation in the United States are tax deductible to the extent allowed by law.
If you have questions or would like to discuss a specific type of gift, contact:
The Bogliasco Foundation
1 East 53rd Street (8th Floor)
New York, NY 10022
USA
Tel +1 212 486-0874
Fax +1 212 308-7402
dev@bfny.org
www.bfny.org

Fondazione Bogliasco
Via Aurelia 4
16031 Bogliasco (Genova)
ITALY
Tel +39 010 347-0049
Fax +39 010 347-2452
info@bfge.org
www.bfge.org