News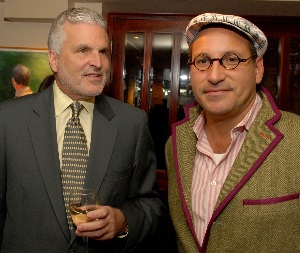 Remembering J.D. (Sandy) McClatchy
With much sadness, we announce the loss of Sandy McClatchy, prized poet, editor, translator, opera librettist, and longtime friend of Bogliasco. Always willing to share his love for the humanities, Sandy was a four-time fellow and an important early adviser to the Foundation. Among his wide-ranging books of poetry, criticism, and literary anthology is the acclaimed collection of poems "Hazmat" (Alfred A. Knopf 2002), a finalist for the Pulitzer Prize, and his translation of Davide Pizzigoni's "The Magic Flute" (Abbeville Press 2000), both of which the author developed while in Bogliasco. In addition to his many accolades—which include two Lambda Literary Awards and Poetry magazine's Levinson Prize—Sandy served as chancellor of the Academy of American poets, president of the American Academy of Arts and Letters, and editor of the Yale Review for twenty-five years. His grace on the page and in life will be forever cherished.
He is pictured here with his husband Chip Kidd (BF '97, '04) after a 2007 Bogliasco event where he spoke about and read from "Hazmat."  
A Year in the Life: Study Center Fellows 2016-2017
Our new yearbook captures the creative life of the Study Center from 2016-2017, featuring beautiful photography by Alessandro Vulcano. Designed by the Center's own Valeria Soave, the yearbook reflects the community, inspiration and setting that make the Study Center unique. To order a print copy, please contact us.
20th Anniversary Gala in Geneva
The Foundation held its first-ever gala on May 18, 2017, at the Palais de l'Athénée in Geneva, Switzerland. This special evening in support of our Swiss Fellows captured the creative spirit that our program has inspired since the Foundation began in 1996. Many thanks to our talented Fellows who performed and donated their works. Click here for more on the event.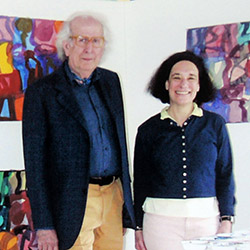 Remembering Raimondo Sirotti
With sadness, we announce the death of Raimondo Sirotti: artist, former mayor of Bogliasco, and champion of the Study Center's founding and mission. For over 20 years, he generously provided his administrative and artistic skills for the benefit of the Foundation. Sirotti served as the director of Genoa's Accademia Ligustica di Belle Arti, and his works are displayed in public spaces across Italy, including the Teatro Carlo Felice. He is pictured here with artist Melissa Meyer during her 2005 residency. 
New Partnership with Baryshnikov Arts Center
The Bogliasco Foundation and Baryshnikov Arts Center (BAC) are pleased to announce a new joint residency that will offer Dance, Music, and Theater Fellows the opportunity to bring work developed in Bogliasco to a wider audience and bigger space in New York City.  
Joint Fellows in the performing arts disciplines will benefit from a month-long residency at the Study Center in Liguria to nurture and develop new projects, followed by a week-long residency at BAC in New York City to rehearse, workshop, and showcase these works-in-progress.
The Joint Fellowship is a collaboration between two respected international non-profit organizations with the shared mission to support the creation of new work in the arts. Traveling from the intimate spaces and cross-disciplinary community at the Bogliasco Study Center to the lofty studios and well-equipped spaces at BAC will take Fellows on a natural progression in the development of their creative work.
All applicants to the Bogliasco Foundation in the disciplines of Dance, Music, and Theater will be considered for this special Fellowship.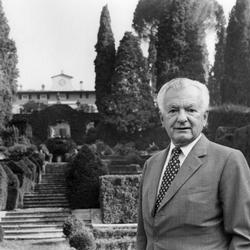 Remembering Walter Kaiser
We are deeply sad to report the passing of our longtime friend and treasured colleague, Walter Kaiser, whose stewardship as a founding board member brought unparalleled excellence to our program. Walter was known as a great humanist and scholar of the Italian Renaissance. He is pictured here at Harvard University's Villa I Tatti, where he served as director from 1988 to 2002. Photo courtesy of Emma-Louise Ogilvy.