Requirements
The following documents, which may be submitted in English, Italian, French or Spanish, will be required. Please note that the Foundation cannot process application materials submitted in any other language.
(1) The completed application form.
(2) Three letters of reference, which must be uploaded directly by the referees and received by the application deadline.
(3) A short-form curriculum vitae, no more than three pages in length.
(4) A one-page description of the project that the applicant would pursue during her/his stay at the Bogliasco Study Center.
(5) Three samples of the applicant's work that has been published, performed, exhibited, or otherwise publicly presented during the last five years.
(6) A $30 application fee, payable by credit card at the end of the application process.
PARTNERS/COLLABORATORS:
Bogliasco Fellows may be accompanied by their spouses/partners during their stay at the Bogliasco Study Center. Spouses/partners who intend to pursue a project in one of the disciplines, and who wish to be designated as Bogliasco Fellows, must submit separate and complete applications. Although the Foundation accepts collaborative Fellowships, applicants must submit separate applications and be prepared to share living quarters and/or work space at the study center.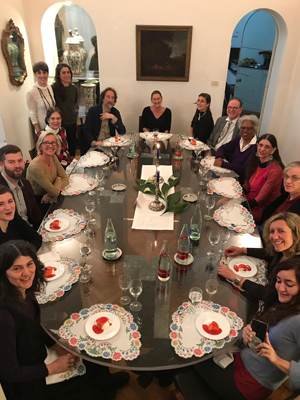 RESTRICTIONS:
Children cannot be accommodated at the Study Center.
Overnight visits by friends, colleagues or family members are not possible.
Pets are not allowed.
Reapplications: There is no limit to the number of times a candidate can apply for a Bogliasco Fellowship. However, previous recipients of a Bogliasco Fellowship must wait five years before reapplying. For example, Bogliasco Fellows who were in residence during the spring 2017 semester are eligible to reapply for spring 2022.
The Foundation does not allow Fellows to defer their residencies. A Fellow who turns down a Bogliasco Fellowship must reapply to be considered for another semester.
Those with food allergies or other dietary restrictions should contact the Foundation at info@bfny.org before submitting an application.
At the minimum, Fellows must be able to speak conversational English to communicate in this international community, where the common language is typically English.
FINANCIAL RESPONSIBILITIES:
Bogliasco Fellowships include full room and board, plus the use of a private studio. The cost of transportation to and from the Bogliasco Study Center is the responsibility of Fellows and their accompanying spouses/partners. So also are all project materials and equipment, and any personal expenses incurred during the fellowship period, including medical expenses. Spouses/partners will be charged a daily fee of $30 to help defray the cost of meals and housing.
DEADLINES:
Regular deadlines for the submission of applications are as follows: January 15th for residencies during the subsequent fall semester, and April 15th for residences during the subsequent spring semester. 
Regular notification dates for the award of Fellowships are as follows: April 1st for Fall Fellowships; July 1st for Spring Fellowships.
**Please note: The notification date for the award of Spring 2022 Fellowships has been pushed back from July 1st to July 15th, 2021**
OUR ONLINE APPLICATION IS CURRENTLY CLOSED AND WILL REOPEN IN DECEMBER.

The Bogliasco Foundation
1 East 53rd Street (8th Floor)
New York, NY 10022
USA
Tel +1 212 486-0874
info@bfny.org
www.bfny.org